A note from Jamie:  A much shortened version of this piece ran in the October 2009 edition of the Anglican Journal.  I'd originally written close to a 1000 words, and the Journal asked me to shorten it to around 750… and then on the way to print it was edited down to under 400 words.  Ah well, such is life in the world of the church newspaper.  Then again, I thought it worth posting in the version that I myself edited, which is what you're about to read.  
O
ver the past while, I've found myself thinking about succession; about how we pass the mantle from one generation to the next.  It started on the last Sunday before Lent, when the lectionary had us read the story of the passing of the prophetic mantle from Elijah to his student Elisha.  In that narrative, a tenacious Elisha seems determined to become heir to his mentor's legacy, requesting the inheritance due an eldest son: "let me inherit a double share of your spirit." When Elijah is taken up to heaven, Elisha cries out "Father, father!", tears his own clothing, and then quite literally takes up the mantle. 
Yet was Elijah ever called "Elisha's mentor", or was it always the other way around?  Was Elisha ever and always "Elijah's heir?" Elisha is significant, but Elijah towers.  It is Elijah who is expected to come as messiah's forerunner, and it is Elijah who appears in the story of the transfiguration.  We are always "standing on the shoulders of giants", but what if that giant is a towering Elijah-like figure? 
The other thing that got me thinking about this was the release of Blending Times by jazz saxophonist Ravi Coltrane.  Even people with little knowledge of jazz will know that to place the name "Coltrane" in the same sentence as the words "jazz" or "saxophonist" is to evoke the name "John."  John Coltrane towers in the jazz world; John Coltrane is "Trane."  Ravi Coltrane is not – and never will be – simply "Trane." 
I suspect the day Ravi Coltrane secured an agent, he was basically assured a recording contract.  That he is a good musician wouldn't have hurt, but there are countless good musicians who never get recording deals.  His surname comes with undeniable gravitas, tied not only to his father but also to his mother, Alice Coltrane, who was a significant innovator in her own right. Alice died in 2007, just a few years after Ravi played a pivotal role in her return to recording after a 26-year hiatus. 
The various biblical succession narratives remind us that it is no easy thing to find one's way, particularly not when one is following in the line of a ground-breaker, a foundational figure.  Think of poor Isaac, trying to make his way along a path trod by his father Abraham.  Think of David's son Solomon, in "all of his glory" and all of his compromised decisions regarding wealth, power and sex. Think of the sons of Samuel, who turn out to as disastrous as the sons of Eli.  Hard stories, all.
Now, back to the music.  Blending Times is a good piece of work, but not a great one.  Some songs are quite beautiful – "Shine" is a stunner – others make for challenging listening – the five improvisations credited as "conceived and directed by Ravi Coltrane" fit here – but it is not so much a blend, as an assortment. And the final track, "For Turiya" – written by bassist Charlie Haden for Ravi's mother in 1976, and featuring a performance by Haden himself – is lovely, searching, yet quite without context on the album. 
Ravi Coltrane was only two years old in 1967 when his father succumbed to liver cancer, so was raised and shaped by his mother.  More than simply dedicated to his mother's memory, Blending Times includes a pledge:  "My offering to her memory and to her meaning extends from this album forward.  I will spend the rest of my creative life humbly honoring her spirit." 
Reading that, I began to worry for the man. How can he find his own voice if he intends to tie his work so firmly to his mother's memory, meaning and spirit? 
Those biblical narratives remind us that succession can be tough; tough, but not impossible.  Think of Paul, who is reduced to nothing on the road to Damascus, utterly reliant on spiritual fathers and mothers he had once persecuted.  He places himself under their spiritual parentage, before emerging with his own voice not just intact but soaring.  To borrow from the world of jazz, as an apostle Paul is a master of extended solos and explosive improvisations.  Yes, he's indebted to those who shaped him, but not fenced in by that debt.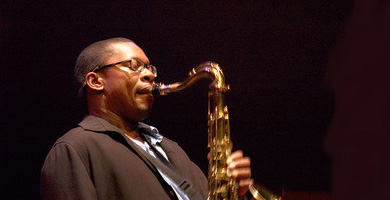 There is something critical here for congregations.  Can we manage to pass along the mantle to the next wave of church leaders in way that is both foundational and freeing?  There's a hint of what is possible when those two things are balanced, this time on a free online recording of a Ravi Coltrane concert from New York's famed Village Vanguard.  On this one, he's found his voice, everything comes together and it works.  On this one, it blends, and it is very good.
Jamie Howison